The UK's 10 largest supermarkets contribute approximately 810,000 tonnes of single-use plastic every year. This is IN ADDITION to over 1.1 billion single-use bags, 958 million "bags for life" and 1.2 billion plastic bags for fruit and vegetables. (Source Environmental Investigation Agency and Greenpeace UK.)
Following an unprecedented positive response to their plastic-free "Unpacked" initiative, Waitrose & Partners has proved there is a market that is ready and waiting for packaging reform.
As a trusted, well-established store, Waitrose can attract the early adopter market who are prepared to pay more to use less.  By referencing the Diffusion of Innovations" model by Everett M Rogers, we can predict that this market will move on from early adopters to the early majority who want to buy products with no packaging. 
This presents a huge opportunity to designers as the goods must communicate what they do without the luxury of branded packaging. 
Amazon is the biggest eCommerce retailer of consumer goods and is bringing in new packaging regulations. Instead of products being double-packaged with a box inside a box, they will encourage retailers to package products in a box that can be used as the shipping carton.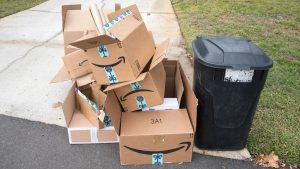 Back